News
Great news, everyone! We have finished and published the programme of this July's Summer School and thanks to our collaboration with the EU's Horizon 2020 Chaperon project, the programme contains a record-breaking number of prestigious guest lectures!
Have a look yourself here in the programme, which you can also download in PDF. Or, if you're extra curious, you can find the lectures listed among the events of the Chaperon ERA Research Club.
---
The Czech Transplantation Society Paper of the Year Prize for 2020 announced
The Czech Transplantation Society announced the winner of the Best scientific publication of the year 2020. The prize was awarded to RNDr. Vladimira Moulisova, PhD who is the first author of the original research paper "Novel morphological multi-scale evaluation system for quality assessment of decellularized liver scaffolds". This work was published as an open access paper in Journal of Tissue Engineering (IF 5.352) in May 2020. Dr. Moulisova and co-authors (Jiřík M., Schindler C., Červenková L., Pálek R., Rosendorf J., Arlt J., Bolek L., Šůsová S., Nietzsche S., Liška V., Dahmen U) deal here with the highly potential native biomaterial suitable for liver tissue engineering that could facilitate production of transplantable liver tissue grafts in the future. The whole team is very pleased by receiving this prize which was officially awarded to dr. Moulisova by prof. MUDr. Vladislav Třeška, DrSc., the head of the Society , and prof. MUDr. Tomáš Reischig, Ph. D., the research manager of the Society last Friday.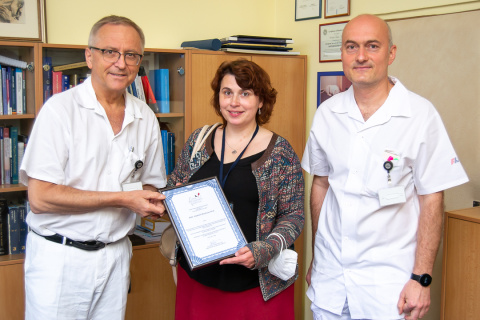 Besides the regular intensive preparations for this year's Summer School of Experimental Surgery, we are currently looking for PhD students to join our research teams. More details here.
Welcome to 2021, everyone! Even though the advent of the new year means that the early bird application round for SSES 2021 is over, there's no need to worry as the regular application is still open, with a deadline of February 28. Apply here.
---
Good news, everyone! We've just opened the application for Summer School of Experimental Surgery 2021! Apply now.
---
A great news unrelated to the ongoing summer school – Richard Palek and Jachym Rosendorf, two of the SSES team members who have been with us since the foundation of the School in 2014, were recently awarded 2nd and 3rd place Albert Schweitzer prize for medical research for young Czech scientists in postgraduate study programmes by the the French embassy of the Czech Republic.
Read the full announcement at our lab's website.
Congratulations guys!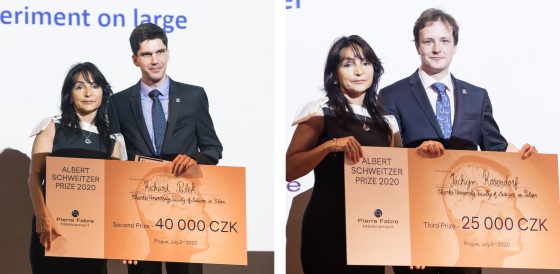 ---
We're all set for the Summer School and looking forward to starting next week!
---
The programme of SSES 2020 has been published here. It is still subject to minor changes according to current situation, but the main outline should stay the same. Looking forward to seeing you in July!
---
In spite of the global coronavirus pandemic, we are still confident that we will be able to organize the Summer School of Experimental Surgery this July without major complications or safety concerns. We have several plans for changes to the curriculum or education methods, which will be applied based on the development of the situation. We hope that international travel will soon be enabled and as many of our students as possible will be able to arrive and participate.
---
Ph.D. Positions in Cancer Research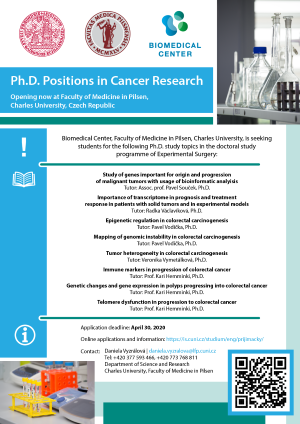 Biomedical Center, Faculty of Medicine in Pilsen, Charles University, is seeking students for the following Ph.D. study topics in the doctoral study programme of Experimental Surgery:
Study of genes important for origin and progression of malignant tumors with usage of bioinformatic analyisis
(Tutor: Assoc. prof. Pavel Soucek, Ph.D.)
Importance of transcriptome in prognosis and treatment response in patients with solid tumors and in experimental models
(Tutor: Radka Vaclavikova, Ph.D.)
Epigenetic regulation in colorectal carcinogenesis
(Tutor: Pavel Vodicka, Ph.D.)
Mapping of genomic instability in colorectal carcinogenesis
(Tutor: Pavel Vodicka, Ph.D.)
Tumor heterogeneity in colorectal carcinogenesis
(Tutor: Veronika Vymetalkova, Ph.D.)
Immune markers in progression of colorectal cancer
(Tutor: Prof. Kari Hemminki, Ph.D.)
Genetic changes and gene expression in polyps progressing into colorectal cancer
(Tutor: Prof. Kari Hemminki, Ph.D.)
Telomere dysfunction in progression to colorectal cancer
(Tutor: Prof. Kari Hemminki, Ph.D.)
Application deadline: April 30, 2020
Online applications and information: https://is.cuni.cz/studium/eng/prijimacky/
Contact: Daniela Vyzrálová | daniela.vyzralova@lfp.cuni.cz | Tel: +420 377 593 466, +420 773 768 811 | Department of Science and Research | Charles University, Faculty of Medicine in Pilsen
---
Another round of SSES applications is now open with the deadline of February 29, 2020. Only a few last places left. Apply here.
---
A brief reminder – the application deadline for the Summer School of Experimental Surgery 2020 (and also the last call for the Winter Workshop of Visceral Surgery) is coming on January 31!
---
Thanks to the support of the European Regional Development Fund-Project "Application of Modern Technologies in Medicine and Industry" (No. CZ.02.1.01/0.0/0.0/17_048/0007280), we were able to equip our animal surgery facility with a new experimental CT scanner. This exquisite machine will enable us to harvest much more data from our experiments and having it at hand just a few steps from the operating theatre unlocks a whole new world of experimental projects we can now start working on.
The CT scanner was ceremonially launched on January 10, 2020 (see photos in the gallery), however, we must admit that we had been too excited to wait and tried it already a couple times before that (and found it to be awesome).
---
The application deadline for WWVS has been extended to January 31, 2020. Apply here.
---
Have a wonderful Christmas, everyone!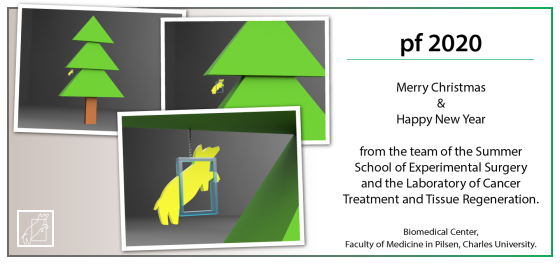 ---